Published 21/12/2021
Welcome to the December issue of the Close the Data Gap blog. Each month, we interview either a member of our group or a guest speaker about their passion for gender equity and what they are doing to close the data gap in their corner of the world. This month Kirsten Madeira-Revell interviews Erinn Sturgess, a member of Close the Data Gap.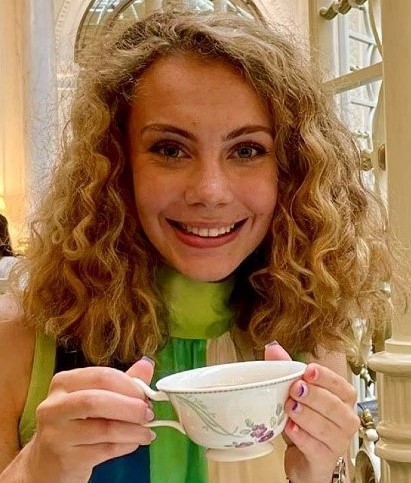 What is your role and what career path are you currently following?
I'm currently a fourth year Aeronautics and Astronautics student at the University of Southampton. My main career goal is to become a commercial airline pilot. I'm also interested in looking at pilot training from a Human Factors perspective in terms of how pilots are trained using flight simulators when using newly developed cockpit interfaces and technology.
Although I'd like to go straight into pilot training after graduating, in the current climate, I am considering doing another master's in safety and Human Factors, specifically within the field of aviation.
What aspects of your current studies give you the most satisfaction?
From a student's perspective, I get satisfaction when I submit a piece of work that requires a lot of effort and get a mark back that I'm happy with. Even if it's not the highest mark, it means more than a higher mark you got for a piece of work you completed quicker because you know you have put the effort in. I had this happen last semester where I had put a lot of effort into a piece of work, and it is one of my proudest achievements on my degree.
What do you do within Close the Data Gap (CtDG) and Southampton University's Women in Engineering Society (SUWES) to promote gender equity?
For CtDG I am part of the guideline and education groups. In the education group, we are doing a lot of work for the undergraduates. Also, in my third year of university, I joined SUWES as an outreach coordinator, and I am now the president. As an outreach coordinator, we did a lot of online question & answer sessions with primary schools, where they would send us questions and we responded with videos that aim to encourage everybody to get into engineering, no matter who you are. This year as president, due to COVID, it has been difficult to plan activities, although we are in talks with Rolls Royce, BAE, and other engineering companies to get profiles on people's career paths and how they got there.
What is the best thing about being a part of CtDG?
When I first joined CtDG, I was worried because I was still an undergraduate student and I wasn't sure what I could bring to this group of PhD students, postdocs, and researchers. However, it has been really enlightening to be a part of this group of people who all share the same core beliefs. I also really like how proactive the group is; it's not just all talk, people are doing things to close the gender data gap, as the group's name says!
Also, within the guidance group, the literature review we did shone a light on how big the gender data gap is within the transportation domain. This paper is something I'm really excited to be a part of because it is my first publication!
To you, what is gender equity? What does it entail?
I think there is a problem with the way people use the term gender equity. People often use the terms gender equity and gender equality interchangeably, even though they mean different things. I think people get confused over the real meaning. For me, gender equity is the understanding that males and females are different. Fundamentally, we are built differently, and our needs are different. Therefore, the design of things should account for everybody's needs. Unfortunately, we know that this is often not the case, and most things are designed for the default male body.
Why do you believe gender equity within the research process is so important?
At the CtDG PhD training, put together by Daniel and Siobhan, I learnt that before 2011 female dummies weren't used for car crash testing. I found that shocking, and it indicated to me that this gender issue regarding safety aspects was likely prevalent across multiple domains.
That aside, I think if you weren't used for car crash testing. I found that shocking, and it indicated to me that this gender issue regarding safety aspects was likely prevalent across multiple domains. disaggregate your data by gender and collect a sample with an equal gender split, it can make your research that much more interesting by highlighting the differences in male and female behaviours. Overall, I think gender equity can enhance your research outcome.
In what ways do you want to ensure your research is gender equitable?
In my third-year project, I used a survey to look at ways pilots responded to aerodynamic stalls during the different phases of flight. Once I removed participants who didn't complete the survey, I had a sample of 47 participants, with only 1 female pilot. I found that disheartening because I advertised the study specifically to female pilots, and it was difficult to achieve that gender split within my dataset.
My fourth-year research project is looking at designing, manufacturing, and testing a Virtual Reality bike simulator in the VR cave on Boldrewood campus. Based on the experiences from my third-year project, it was important to me that we planned to achieve a participant sample with an equal gender split. Also, during the design process, we planned to manufacture a bike with adjustable handles and seats so that everyone will be comfortable within the simulator.
When we came up with the use case for this study, we decided to disaggregate the data by age and gender. During the simulation, we will be measuring the participant's lateral distance from the curb and their bike speed in response to different levels of traffic intensity. It'll be interesting to see whether there are age and gender differences in response to the variations of traffic intensity. We are also designing a post-experiment questionnaire to help understand the participant's decision making that underpinned why they chose to do certain things, such as go faster or ride their bike in the centre of the road. It'll also be interesting to see if there are any age and gender differences in the cognitive response to the simulation. I think this research shows that if you consider how you are going to achieve gender equity within the early stages of research design, it is not difficult to maintain and achieve throughout the project's life cycle. I also think the case study will show it is possible to achieve gender equitable research at an undergraduate level.
What do you hope for the future in your field regarding gender equity?
The engineering domain is very male based, and the aerospace industry has very few women. This is particularly apparent in lectures, especially in my fourth-year lectures because they are smaller than undergraduate lectures. Often, I am the only female attending the lecture. I don't personally have an issue with that, but I'd like to see more development within industry to get females more involved in aerospace engineering. I think one of the biggest problems is not necessarily that people haven't thought about doing engineering, it's that they are put off by the perception of what engineering is. In the future, I hope there is a clearer perception of what engineering is through more encouragement by industry.
What do you think will be the next big thing in your field?
After doing my IP and my research with the Open Flight Deck team over the summer, I think the next big thing will be integrating new systems onto the flight deck and investigating how pilots interact with these systems. People may perceive the introduction of new technology as a small change; however, these changes can have a huge impact on the pilot's cognition. The two crashes of the Boeing 737 MAX's are both examples of how one small change to the airplane's technology can cause major incidents. In the future, I think understanding the potential impacts of any new systems on the pilot and making sure the training perfectly complements these changes will be really important.
Outside of your job, what is the biggest gender data gap issue you face?
This year I started living in a flat on my own for the first time, which was a big change for me. When walking back on my own past eight o'clock, my Mum wants me to text her to make sure I get home okay. Often, you see males walking home in the dark with their headphones on without any worries, whereas I would never wear my headphones because I don't want to reduce my hearing of the surroundings. That's something I've noticed, especially since I started living on my own.
Even from an age perspective, my Grandma is very short and frail, and I think more can be done to improve public transport for her and the elderly population, particularly on buses and trains to improve their comfort. Although there are specific seats for the elderly, there is often only one seat available, and people accidentally sit on them without thinking of the wider consequences for the elderly passengers. Having seen how these transport issues affect my Grandma, it made me realise that the height and age of the elderly makes a difference to their journey and forces them to make considerations for their travel plans that they shouldn't have to make in the first place.
Do you have any advice for anyone who wants to make a difference to gender equity in their corner of the world?
After doing my project, it made me realise that if you include gender equity as an aim from the beginning of the research project, it's easier to achieve gender-equitable research, even in little ways. Also, when you can't get an equal gender split within your data sample, it is beneficial to acknowledge this in your paper, alongside any potential implications on the generalisability of your findings.
Thank you so much Erinn, it's been fascinating to hear about your area of work and all that you're doing for gender equity in CtDG, SUWES, and in your research. It's a massive contribution to the world.
Our first blog of 2022 will be with Research Fellow Jed Clark. He will be discussing his case study on how to close the data gap through his research with the Trustworthy Autonomous Systems Hub.
Did this blog leave you wanting to read more about our fantastic CtDG members?
Click here to see Rich McIlroy's blog!