In this section you will find resources to help you Close the Gender Data Gap in Transport Research in your organisation, by evaluating your own practice, changing your treatment of data, training those around you, or influencing those in organisations you collaborate with.
Making a difference in your organisation:
The graphic below highlights key areas to consider when undertaking transport research (see Gender Factors for more info). It also shows different stages in your research where you can apply this thinking. Finally by considering gender in your transport research, this graphic shows examples of where your work can have impact in creating an equitable world. To get more detailed examples of the constraints an opportunities for change, see the publication by Close the data gap 'How can we close the gender data gap in Transportation Research?'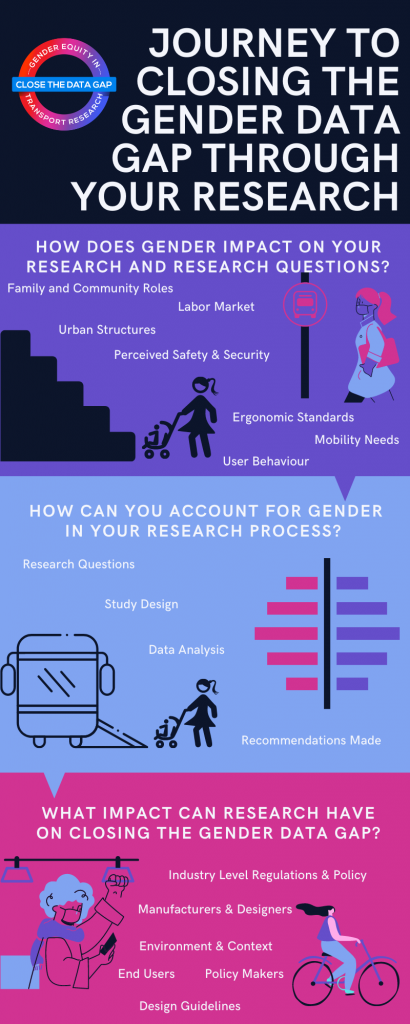 Publication – How can we close the gender data gap in Transportation Research?
This article is a call to action for Human Factors and Transport Researchers to create a fairer society, by closing the gender data gap. The need for gender equitable research outcomes is put forward, and practical steps to further this goal are provided to ensure gender is considered at all stages of the research lifecycle. The journey of a voluntary task force from a transport research group in the United Kingdom is described. Insights following a review of their own research practice is provided, describing the challenges to, and opportunities for, closing the gender data gap. The need for greater guidance and emphasis on equity within research teams is recognized, and examples of how researchers at different stages of their career can make a difference are provided.
When using information in this section, please cite this article: Madeira-Revell, K.M., Parnell, K.J., Richardson, J., Pope, K.A., Fay, D.T., Merriman, S.E. and Plant, K.L. (2021). How can we close the gender data gap in transportation research?. Ergonomics SA : Journal of the Ergonomics Society of South Africa, 32(1), pp.19–26. Available at: https://hdl.handle.net/10520/ejc-ergosa-v32-n1-a4.
Making a difference with your data – how to collect, analyse & report:
When evaluating our own research practice, we sought out existing principles and adapted them for transport. We used the the flowchart below from SAGER Guidelines by Heidari et al. (2016) as a starting point for our approach. Our research identified that within the transport domain, the transport 'gender factors' will inform how sex and gender are relevant to the topic of study. So instead of treating question 1 as a 'yes / no' – we encourage you to use each of the gender factors as a lens to evaluate your topic of study. Our downloadable 'crib sheet' summarises this thinking. We encourage you to use this resource to help ensure your research is gender equitable.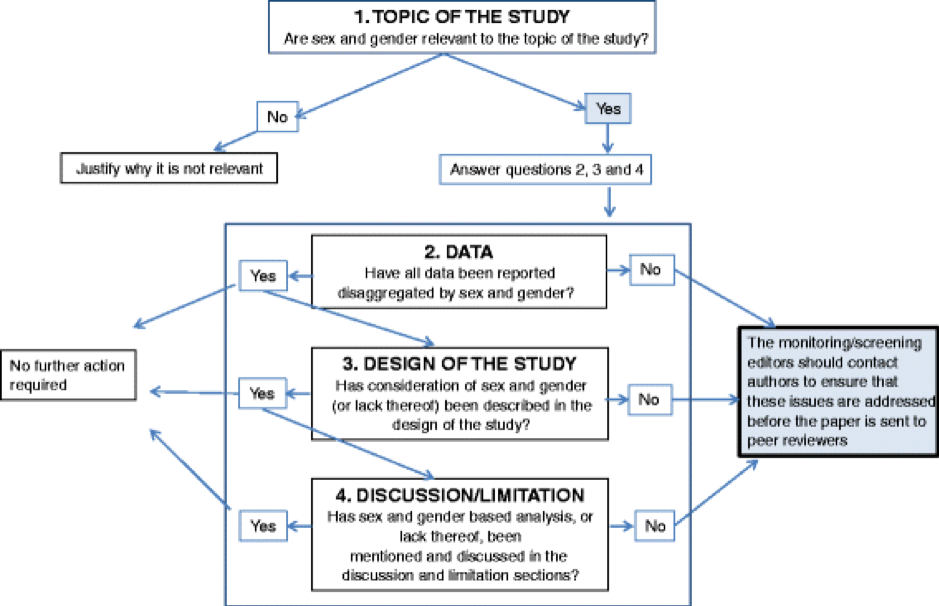 CtDG Crib Sheet – Ensuring Gender equitable practice in your research
PhD Training Session – Is Your Research Gender Equitable?
This training session was delivered to PhD students with the aim of facilitating an awareness of good gender equity research practices to inform better quality research. If you have students or practitioners who are unaware of gender bias in transport or engineering research, we encourage you to consider sharing the documents below, or to put on your own training session.
Publications
The following peer-reviewed publications from Close the Data Gap members can be cited to make an 'evidence-based case' for the consideration of gender in your research projects. You can also use these to justify extra time and funding to ensure a gender equitable sample size, or to ensure experiments are gender equitable in their design, data collection, analysis and reporting.
How can we close the gender data gap in Transportation Research?
'It's a man's world': a gender-equitable scoping review of gender, transportation, and work
Gender-Equitable Human Factors in Transport Research
How can human factors close the gender data gap?
Gender perspectives on electric micromobility use
Using human factors and ergonomics methods to challenge the status quo: Designing for gender equitable research outcomes