Published 31/05/2022
Welcome to the April issue of the Close the Data Gap blog. Each month, we interview either a member of our group or a guest speaker about their passion for gender equity and what they are doing to close the data gap in their corner of the world. This month, Kirsten Madeira-Revell interviewed postgraduate researcher from the Web of Science Institute and Close the Data Gap member, Rachel Hayward.
What is your role and what career path are you currently following?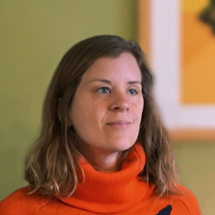 I am currently in the second year of a PhD in human-centred AI at the University of Southampton (Web Science Institute), where my research is focused on the role of technology in providing insight and support with respect to active travel safety. I'm currently using social media data and machine learning techniques to research harassment experienced by women when using active travel modalities.
What aspects of your PhD work gives you the most satisfaction?
Much of my career had been spent within the space industry or high precision environments. My wish was always to work on earth observation missions so I could contribute to a more sustainable future. I continue to be interested in how data can provide insight into the impact of human activity on earth and these interests eventually led to studying Landscape Architecture in 2016. The course provided insight into the challenges faced by today's designers and policymakers, including the physical, ecological, and political and highlighted areas lacking in innovation and development. The PhD is a culmination of all those interests, and it's really exciting to have all those different areas incorporated together, which I wouldn't be able to find anywhere else.
You are also a part of our Close the Data Gap group. Could you tell me what your role is?
I joined the group in a supporting role about a year ago and was a part of the guidelines paper where I looked at the research surrounding walking and cycling with respect to the gender data gap. I am also a part of the education group which aims to disseminate training resources on gender-equitable research among other PhD students. The experience that I gathered when working within industry has given me first-hand experience of what it is like to be a female in a male-dominated environment. These experiences enabled me to offer insight into the training that stems beyond the academic environment to guide people moving into industry, giving them tools and ideas that allow them to change these organisations from within.
I also look after the groups LinkedIn profile, which involves making sure information on CtDG reaches the professional areas of social media. Each week we are gaining more followers, which is fantastic!
What is your favourite thing about being a part of CtDG and any other organisations you are a member of?
My supervisor introduced me to the CtDG when I decided on my PhD subject. It has been really nice to be a part of a group with common goals and interests. It is an incredibly supportive and positive group. It is also great to hear what other people are doing in their research, as it directly impacts my work and, therefore, provides a great networking opportunity.
To you, what is gender equity, what does it really entail, from your perspective?
The March blog's issue contained an image depicting how gender-equity aims to level out the playing field and this really resonated with me as a visual thinker. Whilst the provisions in this image were depicted as physical items in terms of equity, they must also embody all the different facets that contribute something being inequitable like data and attitudes. But in essence, gender equity gives everyone the opportunity to do the same thing as everybody else.
Why do you believe gender equity is so important within the research process?
Having not worked within academia previously, I never fully understood the connection between research, policy, and industry. After reading Caroline Criado-Perez's book and having completed more of my studies, I now realise how research influences decision-making and represents an essential aspect of how we can start enacting changes in the world.
In what ways do you want to ensure your research is gender equitable?
My current research aims to give a female perspective on how harassment is experienced when using active travel. Currently, data and existing research show that harassment is massively under-reported, and there are limited channels to report events that are not considered criminally wrong but impact users' perception of safety and comfort. For example, a recent BBC article revealed that a law intended to make harassment illegal in public spaces was receiving pushback.
Part of my study aims to explore the opportunity for technology to expose the type and prevalence of harassment experienced by women in public and the second part of my research will use focus on how technology can support women's experiences of active travel modes.
What do you hope for the future in your field regarding gender equity?
I am working with technology and social media data and whilst I acknowledge there are limitations, such as understanding the intersectionality of users, the sheer quantity of data enables me to find out topics or themes that we are otherwise unable to extract from more traditional methods.
What do you think will be the next big thing in your field?
Something that I'm trying to do within my research is to explore the potential for data to improve services, which will then influence sustainability and quality of life is. Whilst using data for this purpose isn't new, (so I'm not sure it counts as the next 'big thing') I hope that more advanced methodologies are not only able to improve decision making, but also the speed of decision making. So, policy and infrastructural changes can be made when it matters not 10 years after the fact.
Outside of your work role, could you think of anything that is a big gender data gap issue that you face in your day-to-day life?
I think female health is the big one for me and it's something I have become increasingly aware of as I get older. It is starting to make the headlines so I hope we are moving in the right direction!
Do you have any advice to give to anyone who also wants to make a difference to improve gender equity in their corner of the world?
Whilst I haven't worked in in engineering for a number of years, there are a few of us (women) that continue to remain in contact (it was one of them that introduced me to "Invisible Women"). Recently we have been able to reflect on our own gender gap experiences, for example in terms of how we modified our behaviour or the fun of having incorrectly sized personal protective equipment. Just speaking to a few people about their experiences has been really revealing for understanding what I would do differently to improve gender equity in the future.
Thank you Rachel. It's been fabulous to hear about your work and to hear more about your perspectives on the gender data gap!
In next month's blog, we will be hearing from postgraduate researcher and close the data gap member, Siobhan Merriman.