Published 21/07/2023
Welcome to the June issue of the Close the Data Gap blog. Each month, we interview either a member of our group or a guest speaker about their passion for gender equity and what they are doing to close the data gap in their corner of the world. This month, Sophie Hart interviewed Lecturer and Close the Data Gap member, Jisun Kim.
What is your role, and what career path are you currently following?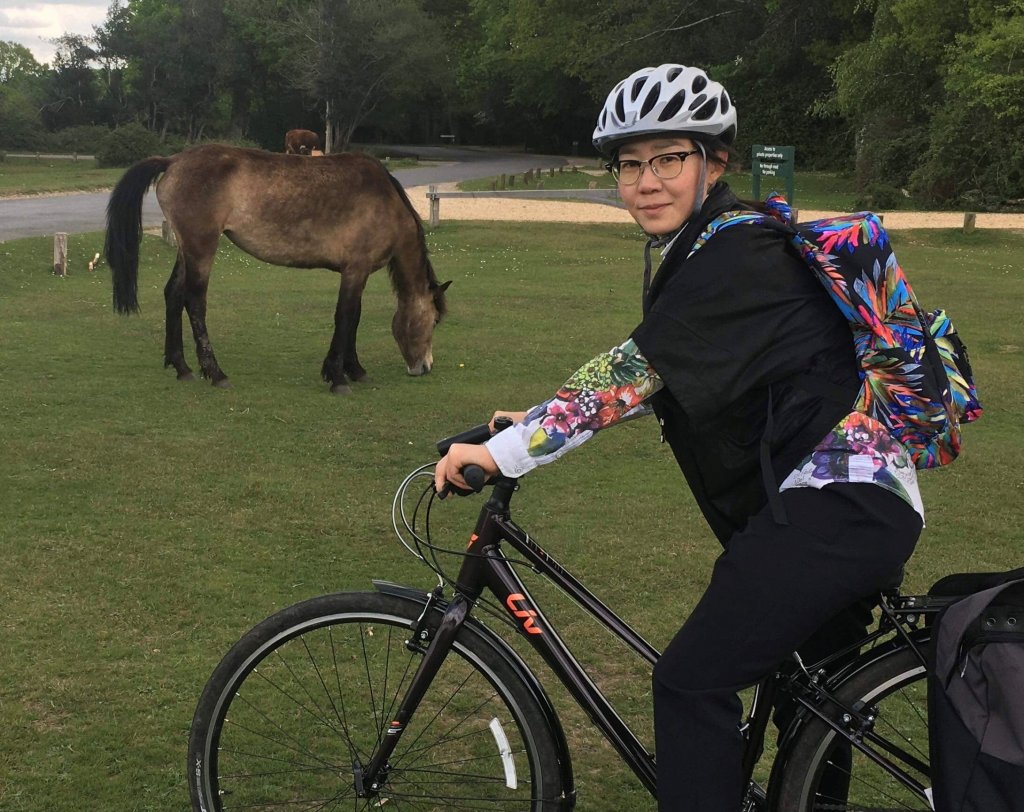 I am a lecturer in product design at Aston University. Previously, I worked as a research fellow at Southampton University. I started my new role in April so I am still settling in. The role requires both teaching and research. I don't have any teaching currently scheduled before the new academic year begins, so I am mostly focusing on research and preparation for my modules, design management and innovation. I am also starting to build up a network in the Birmingham and West Midlands areas.
In terms of my research career path as an academic, I want to keep focusing on transport related topics as one of my main research areas. I am particularly interested in women's perceived safety and mobility. I am going to apply for research grants and hopefully gain valuable opportunities so that I can conduct relevant research that has an impact in both academia and industry in the near future.
What aspects of your current work give you the most satisfaction?
I genuinely have an interest in human behaviour and I really wanted to know how to measure and analyse people's behaviour, as well as understanding factors influencing their behaviour. Joining the Human Factors team within the Transportation Research Group at Southampton University was a really good opportunity for me. I was happy to be involved in a number of research projects relating to driver behaviour, passenger behaviour, behavioural change and interaction and interface design. It was very helpful to improve my research skills and gain more knowledge into Human Factors as a discipline. It is great that my current role as a lecturer at Aston enables me to further develop my research.
I will start teaching in September 2023 which will be excellent for sharing my knowledge throughout my career. It will be really exciting and rewarding to see my students improve and achieve their goals in their future career as designers based on their experience gained through the course. I will be happy to see my students create innovative products and services that contribute to wider society. In terms of my research, I will become more independent as a researcher and improve my leadership in the field. I hope in a few years to initiate a user-centred design research group and run some research projects to solve some real-world.
What is your role within Close the Data Gap?
Before I Joined Aston University, my role within CtDG was to apply branding strategy and do graphic design work that enhanced brand identity by providing consistent visuals. I produced some graphics for CtDG which are used on the website and social media platforms. I also shared some research findings that identified gender differences in the transportation domain.
As a lecturer, I will be conducting research that helps close the gender data gap and achieve gender equity in the transportation domain focusing on perceived safety and active travel, such as walking and cycling. Personally, I am an active travel user as well as a researcher and this provides me with the perfect opportunity to research on those topics.
What is your favourite thing about being a part of Close the Data Gap?
I conducted research about passenger anxiety on the London underground for my PhD and I saw a big difference between genders regarding perceived vulnerability and anxiety in my own data, so I had an existing interest in the gender data gap. Since I joined the group, I have gained more knowledge on such data gap presented in research outcomes, as well as considerations that should be addressed in research and publication processes to ensure gender equity. I hadn't really been aware of the need to close the gap before joining the group, maybe because I was so used to it and just accepted it.
For example, I have a women's bike (specifically designed for women) but I don't feel very comfortable to ride it a long distance for a couple of reasons. The handle bar is wide compared to my shoulder width, so the position of my arms is a bit awkward. Also, the brake levers are not very easy to grip, because the gaps between the levers and the handle bar are too wide. It makes my lower arms and hands feel sore after a long ride. If I hadn't joined CtDG, I may not have had related this issue with gender equity. Now I think it is not the user who needs to adjust themselves to the bike, but it is the bike producer or design guidelines that need to address the needs of female cyclists. Having that awareness is the first step to making changes to achieve gender equity.
To you, what is gender equity, what does it really entail, from your perspective?
Being able to express themselves regardless of their gender and to speak about what they feel and want more freely is the first step to help achieve gender equity. I am from South Korea and my view and attitudes were significantly influenced by more traditional gender roles and expectations. Although I have lived in the UK for more than 10 years, I am still a bit hesitant to talk about certain topics that do not match the "expectations". So I think being gender equitable is respecting and accepting others' views without judging them based on gender roles, expectations or norms that have been prevalent within society.
Why do you believe gender equity is so important within the research process?
I think research processes that are more gender-inclusive are more likely to produce outcomes that could represent the truth of the situation under investigation better by embracing the views of all genders. Considering the consequences and influences of research findings on society, industry and academia, the significance of gender inclusive research practices is huge. If a study was conducted using data gathered from a gender imbalanced sample, it would be important to mention that the results may not represent the views of both genders equally and effectively due to the gender bias.
In what ways have you ensured your work is gender equitable?
During the research design and implementation processes, it will be significant to plan and conduct a study that will identify problems considering viewpoints of both genders equally using a gender balanced sample. It is also important to have a gender balanced research team. Sometimes, it is hard to achieve this because of the environment in which researchers work. For example, the workplace could be a male or female dominant. It will be helpful to try to listen to the views from researchers of less represented genders. Also, as a lecturer, it will be vital to teach future designers and researchers about gender equity and how it should be addressed in their design and research activities.
Within any research collaborations, I am an advocate for using a gendered lens in every aspect of the process – from funding applications to publications. If I am reviewing journal papers, I will be asking those questions about data sources, data analysis and generalisability. When supervising PhD students, I will get them to question and address the gender elements in their work. I think gender equitable practice can be embedded in any job profession, it isn't just limited to research.
What do you hope for the future in your field regarding gender equity?
According to relevant literature, women are less likely to adopt and use new technology and tend to show a higher level of computer anxiety. There are new technologies and online or virtual platforms that could help improve learning, productivity and quality of life. Extra effort should be made to better understand women's needs, preferences and difficulties when designing and developing a new technology from an early development stage, so all genders can equally benefit from it.
What do you think will be the next big thing in your field?
Sustainability is already a big thing but it will be bigger and more important in the future in my field. Designers will need to respond to sustainability issues when identifying users' needs and designing new products and services. Researchers' roles will be significant regarding this issue as they are the ones who can produce valuable insights to promote people's behaviour change that help improve sustainability and mitigate climate change.
Since the Close the Data Gap group first began 2 years ago, what progress do you think has been made towards achieving a gender-equitable world?
Members of CtDG have published papers and presented at conferences to inform researchers about the gender gap and improve awareness to help other researchers and stakeholders take research findings into consideration. The group has provided guidance and held art exhibition showcasing artwork representing gendered journeys. It has been a great two years. I strongly believe this collective effort will lead to actual changes in transport related policies and system design.
Outside of your work role, could you think of anything that is a big gender data gap issue that you face in your day-to-day life?
I recently moved to Birmingham because I started a new job here. I am not yet very familiar with the environment. It's the second biggest city in the UK, and unsurprisingly, transport systems are more complex than Southampton where I lived before. Unfortunately, real-time information for public transport is sometimes not very accurate on Google Maps and service cancellation is frequent. During service disruptions, women are less likely to feel safe and they are more negatively affected by the uncertainty and unpredictable situations. I also don't feel very safe walking around in unfamiliar places. Darkness isn't too much of an issue now as it's summer but I am concerned about how it would be like travelling alone after dark in the winter. I think those differences in perceived safety between men and women are one of the biggest gender gaps.
Do you have any advice for anyone who wants to make a difference to gender equity in their corner of the world?
I want them to share their opinions and feelings and to reach out to us to share their stories. This will help improve awareness of gender equity amongst people who are less aware of such issues. This will also help find practical solutions based on improved awareness and shared understanding about gender equity gained through different angles. People in other parts of the world would have different views and problems regarding gender equity, so sharing their own views with us would be really helpful for us too. We can't suddenly change traditional views of gender and inequity that exists within our society, but we can try starting from something small that will lead to greater changes and stronger impacts on society in the future through research.
Thank you so much Jisun, it was great to hear about your new role at Aston University and all the positive impact you plan to make! We'd love to have you back in the future to hear about how you are getting on.